Graphic Arts Services & Requests Donation Page
We have an ad-free forum until December of 2019. All money donated from here forward is going towards the migration of GASR to its own private server and for contest prizes. Thank you for your contributions!
Table of Contents
Why Donate?
It currently costs $6.30 USD for ONE month to stay ad-free, or $48.00 USD per YEAR. We wish to keep the forum free of off-site ads so you guys can fully enjoy your experience here on GASR. Our domain(forum url) costs $22 USD per year. In total, that's about $70 per year we spend to keep the forum running smoothly on forumotion's end thanks to our contributors. It may not seem like it, but every little bit helps! Any leftover money will be used toward prizes for future contests and events. As a sign of our gratitude, we'll give you a gold "contributor" badge on your profile after you send in a minimum donation amount of either $5 or 12,500 credits.
Ways to donate
To help with our domain name and advertisements:
Send money via Paypal by clicking the link below (you will be redirected to Paypal's secure site):


For prizes:
While we prefer PayPal, we still accept IMVU credits to give away as prizes for some contests and events.

Option 1: Send credits to GASRforum
Option 2: Donate via IMVU support sticker(click below).



After you have donated you MUST send a message to an Administrator or a Technician with proof of your donation so they may grant you the contributor badge.

Other ways to help GASR:
Purchase an ad-space or a profile background. Keep reading if you're interested!
Purchasing Ad Space
How do you get an influx of customers to your newly created shop? How about gaining visitors for your art blog? Here's one solution for you: display a large banner for your shop on the main pages of GASRforum! By puchasing an ad, you are helping GASRforum stay ad-free and increasing funds for future events and contests. Don't worry, we will make sure that these ads will not hinder your stay on GASR. Purchasing Ad Space does not grant you the contributor badge. We do not accept credits for Ad Space purchases.
Pricing and Location

Option 1: The Homepage

location: below Staff Updates
price: $4.00 USD per week
banner size: 275width x 200height pixels





Banner Guidelines

The following guidelines must be taken into account. We have the right to decline an ad should it deviate from the criteria or violate GASR's general rules and guidelines.

Banners must be exactly the same size as listed under the "Pricing and Location" section.
Banners must be SFW (Safe For Work).
Banners may be animated but need to be PSE-safe.
Banners and location may not be changed once it has been placed on the forum.
You may purchase a maximum of 4 consecutive weeks. After 4 weeks, there is a minimum 2 week wait before purchasing more weeks.
You may request your banner to be removed from the forum at any time. However, no refunds will be acknowledged.

Link Restrictions

The following list discusses which websites are allowed or not allowed to be linked in the ad. If you are still unsure, you may ask an administrator or a technician.

GASRforum

-

allowed


Any part of GASRforum is allowed to be linked.

DeviantART, Tumblr, Livestream, Facebook, Youtube, and other popular social media

-

allowed


You may promote any of these types of sites in your ad, so long as they are art-related, SFW (Safe For Work), and personally managed by you and your peers.

Other forums not managed by the staff of GASR

-

not allowed


Since GASRforum has no power over the businesses practiced on these forums/sites, they cannot be linked in the ad. We cannot ensure that their practices are safe and authentic.

Application

Banners must be approved by the staff before being displayed on the forum. This is to ensure that the banners adhere to the rules and guidelines of GASR. Please note that there is only one submission per person at a time. You my submit more in the future.
Code: Fill out the form above and send the finished application to a Technician or an Administrator.
Once accepted, you will be asked to send your donation/payment to the GASRforum Paypal [ link ].
Purchasing a Profile Background
As an extra incentive, we have decided to add the ability for users to purchase their own custom background for their homepage. Purchasing a background does not grant you the contributor badge. An example of a profile a background is shown below: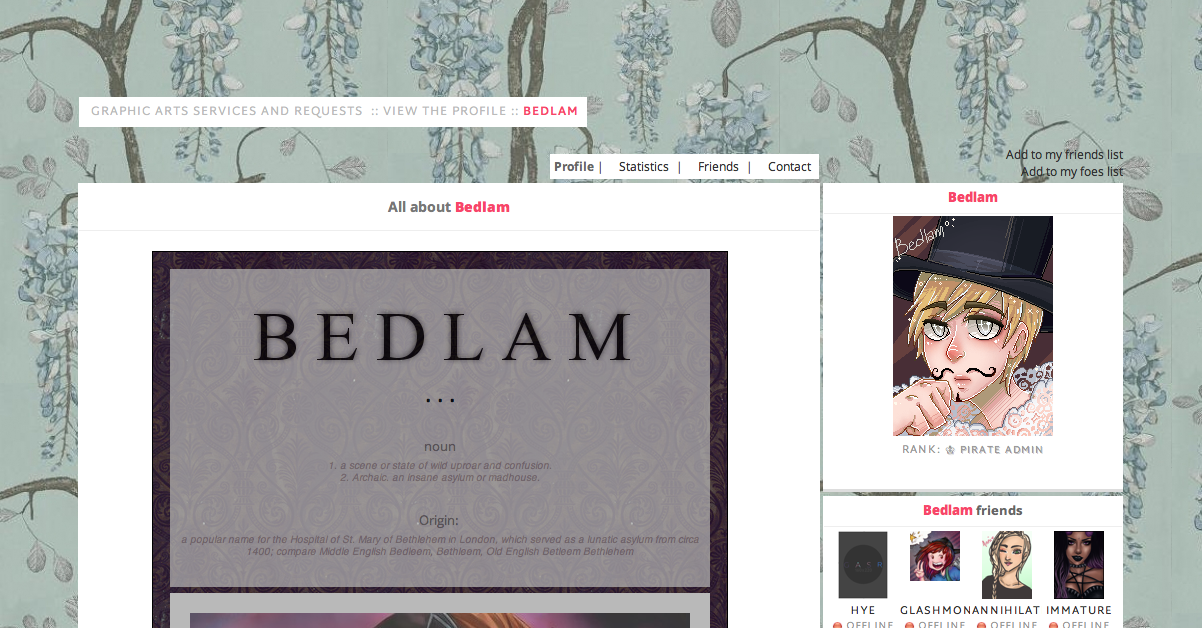 How to get a custom background

The price to buy the profile background is a donation of $5 USD sent to the GASRforum Paypal [ link ]. After sending a donation, contact a Technician with proof of your donation and what you would like for your background. We do not accept credits for background purchases.

You have 2 choices for backgrounds

An image
The image can be a generic wallpaper, a pattern, etc. from the internet, but it must be in accordance with our forum rules. Therefore, we will reject it if it is NSFW, not PSE-safe, or if it is artwork made by another artist on Deviantart or this forum that you do not have permission to use.
A solid color
You can make your background a solid HEX color, such as

#9900cc

. Click here to pick your color.

Please note

We will not be issuing refunds under any circumstances.
It will cost another $5 USD to change the image/color, but we will not charge you if you want the background removed.
Backgrounds are only visible when you view a person's profile page.
Frequently Asked Questions
Q: Where do the credits go to? Who is in charge of the Paypal?

A: Because of the removal of IMVU resellers, the credits donated to the forum will go to prizes for contests only. The money we receive on PayPal goes towards the removal of advertisements and keeping our domain name.

Person currently in charge of PayPal: Queen

Q: How do you keep track of the credits/donations? Won't you get them confused?

A: All administrators monitor donations made on the GASRforum account. The account is separate from personal accounts so there is no confusion. All credits on that account belong to the GASRforum. The paypal is also separate from our personal accounts.

Q: What happens if you receive more money than you thought you would?

A: We'll just save it for another month's of ad removal, the domain name, extra security, a gallery, or contests!

Q: What happens if I don't donate? Will you delete my account?!

A: GASR Forum will never delete accounts or ban people if they don't donate. It will never be a requirement to use our services.

Q: How do I know you guys aren't just spending the money?

A: Any administrator can screenshot the finances at any time. All administrators have access to the PayPal account to help deter any illicit activity.